Media & Speaking
Television:
My broadcasting career spans over 20 years, during which time I have presented a variety of programmes for the BBC related to mental health including: Little Angels (Bafta nominated); Teen Angels, The House of Tiny Tearaways (nominated for a Royal Television Society award), Am I Normal?, Child of our Time, How to Improve your Memory, The Truth About Improving Your Mental Health, The Truth about Child Sex Abuse, Bedtime Live (Channel 4), Panorama, Newsnight. Also: The French and Saunders Christmas Special.
I was co-writer, with Jennifer Saunders, of the BBC2 comedy: The Life and Times of Vivienne Vyle.
Podcast:
I have hosted three series of the award-winning podcast: How did we get here? with Claudia Winkleman.
Radio:
I present on the radio about a variety of subjects related to mental health, including: The Victims Voice (Radio 4; a Sony Gold Award winner), All in the Mind, Women's Hour, A Good Read.
Keynote & Conferences:
I am engaged to deliver keynote speeches at charity, corporate and professional body events, and conferences. My most recent keynote engagements include:
DAPH Annual School Leadership Conference
Thomas's London Wellbeing Conference
Bradford Headteachers Conference
Weydon Multi Academy Trust
The Boston Consulting Group
Roche
National Theatre
Boarding Schools' Association
Wycombe Abbey School
Blackpool Council
Surrey Secondary Phase Council
Learning Partners Academy Trust
Putney High
All enquiries should be made to:
Media:
Sophie Laurimore: sophie@thesohoagency.co.uk
Keynote and Conferences:
Alice Saunders: alice@thesohoagency.co.uk
Niamh O'Grady: niamh@thesohoagency.co.uk
Telephone: +44 0207 471 7900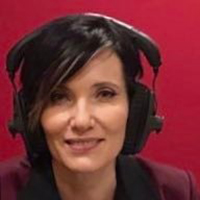 -